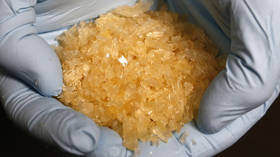 South Dakota has rolled out a new anti-drug campaign warning about the dangers of substance abuse and costing taxpayers almost half a million. But its wording, "Meth. We're On It," has drawn ridicule online.
Taking a bizarre twist on "I am Spartacus," the ads portray average South Dakotans – a kindly old farmer, a churchgoing grandma, high school football players – sternly telling the camera "I'm on meth," with a narrator cutting in with the standard anti-drug PSA: "meth is not someone else's problem."
South Dakota Governor Kristi Noem also hopped aboard the campaign, encouraging residents to "partner" up with a neighbor to "be on meth" in a personal video message.
While the ads attempt to take a serious tone to address a crisis "growing at an alarming rate," countless social media users couldn't help but laugh at the odd wording of the message, one asking"Are we sure this isn't a pro-meth campaign?"
Developed by marketing and ad firm Broadhead Co., the campaign cost the state just shy of $450,000, including for the video series, billboards, posters and a website, but some were not impressed with the hefty price tag and offered their own services.
There was some dispute over whether the double-entendre implied in "Meth. We're On It" was deliberate, some criticizing the ads' "phrasing," others hailing it as a brilliant marketing move.
Running with the idea, netizens helped South Dakota brainstorm additional not-so-anti-drug slogans.
The meth campaign is not the first time South Dakota has raised eyebrows with a quirky public service announcement, running a series of ads in 2014 warning drivers not to "jerk and drive" in snowy conditions – referring to the steering wheel, of course.